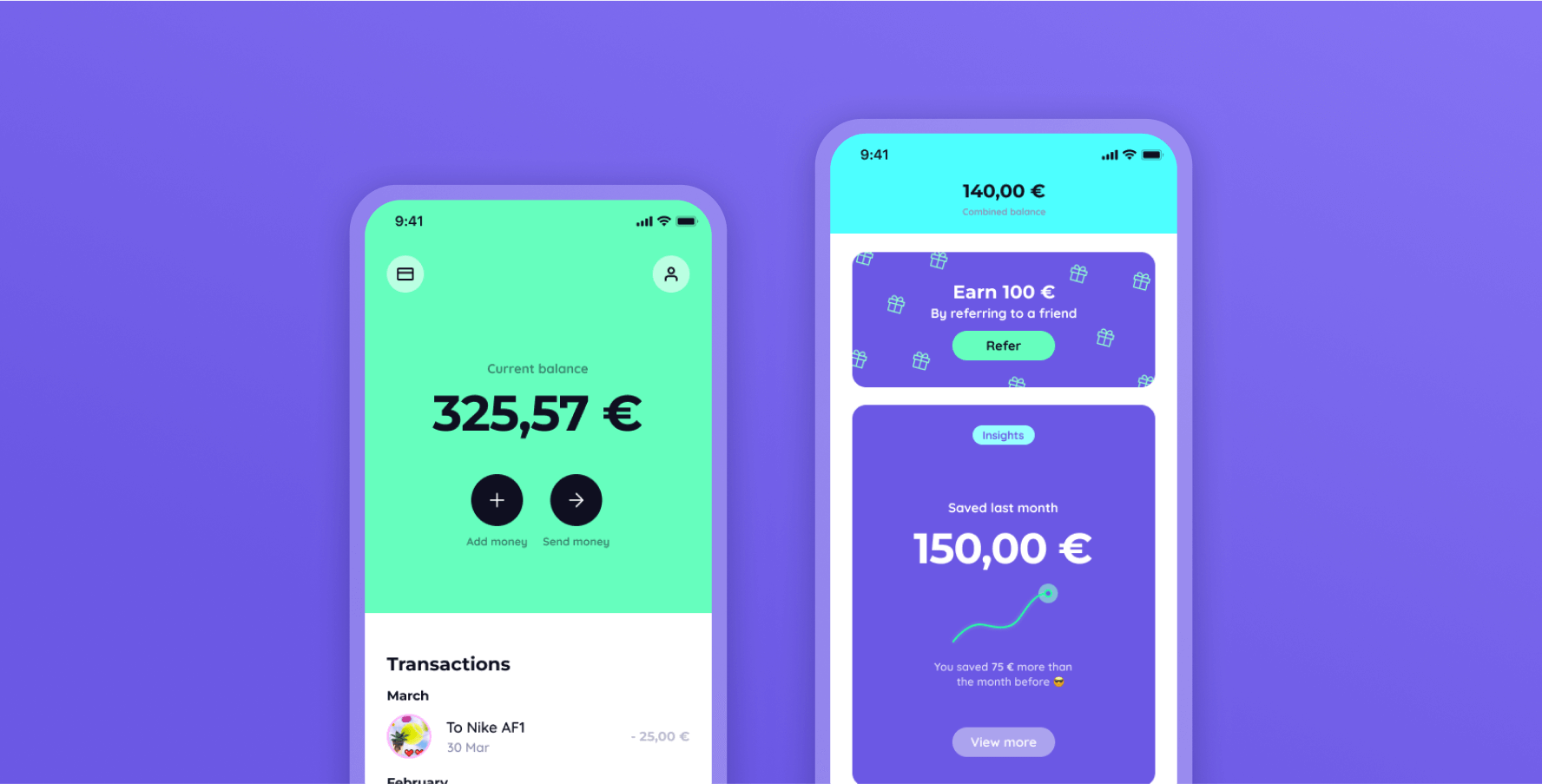 Ruuky - Case Study
First German Neobank for Gen Zs
01

Elevator Pitch

By any modern definition of banking, Gen Zs are currently unbanked in Germany. Kids under 18 years of age currently find themselves using their parent's credit cards for all their online purchases. The app store, online gaming, scooters, ordering food. All these teenage essentials are out of reach unless their parents are willing to front the costs.

Ruuky helps Gen Zs interact financially with the online (and offline) worlds in a convenient and ethical way. The parents still have access and veto rights, but these are reduced and streamlined for the benefit of both parent and kid. Financial independence, without the risk.

And why stop there? This younger generation sees the world differently. They interact differently. They communicate differently. Ruuky doesn't just enable this behaviour, but places the social interconnected world at the heart of its user experience.

Our collaboration has been broken into 3 large design sprints with internal build sprints in between. With 2 of 3 complete, the crowning jewel is yet to come. See the case study of our collaboration thus far, below.
02

Starting point

Decision makers
Jes CEO & Christoph HoCX
Strategy stage
Precise vision and desired feature set
Product stage
Live MVP with active users
Funding stage
Seed-funded
03

Project objective
To re-envision the entire product experience. The output will establish a new product baseline that is 'scale-ready' and can be built and iterated upon.
04

Project milestones
Background
After a successful MVP (as Pockid) the team had raised seed funding and accumulated a stack of user insights from their active user base. Building on these insights, an internal rebrand was underway to give the company a fresh aesthetic more appropriate for their young audience. After that, it was time to overhaul the product.
Reviewing the plan
Right from day one, the Ruuky team had a very clear vision of what their users needed. We were presented with a set of product hypotheses that they believed would be successful. Together, we stress tested all assumptions and then set about bringing this vision to life.
Product scope
After a broad discovery sweep to understand the full scope of the project, we were able to estimate core app architecture and navigation. With this, we divided the project into feature sets.
Where to innovate
With an abundance of exciting ideas, the next big step was to identify where we would follow established best practices, and where we would invest in innovation. This is an essential balance to find, as too little innovation can result in a boring undifferentiated product. Too much innovation however, can make the project process unpredictable and expensive.
Spending
We started on the lower innovation areas to gain momentum. It's important to have the personality of the branding shine through, yet at the same time, fundamental functionality like sending and receiving money should feel as familiar and intuitive as possible.
Onboarding
Fintech for children has some necessary constraints. Together we worked closely with the internal team to make sure that our KYC process and onboarding were both compliant and as painless as posible.
Hand-off
Throughout this project we made several staggered handoffs to engineers. Working in parallel allowed the team to achieve more within the tight deadlines.
Final Result
1. GenZ App

"I want total ease of use. I want to be able to send, receive and save money easily. I'd also like to know how my friends are handling their money and be able to share selected parts of my financial life with them."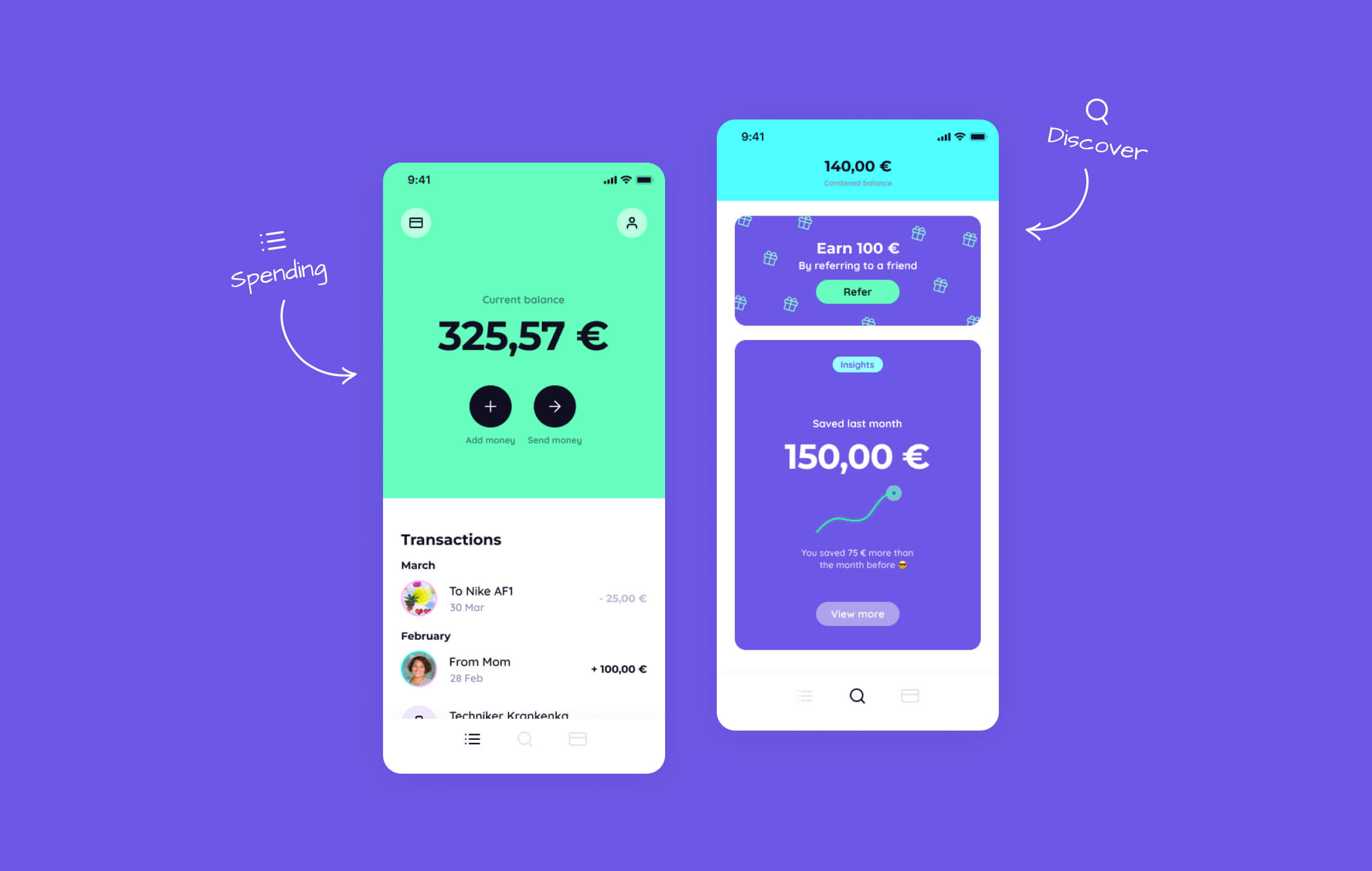 The internal rebrand generated loud engaging colours. We anchored these with a simple minimal UI, letting the branding shine.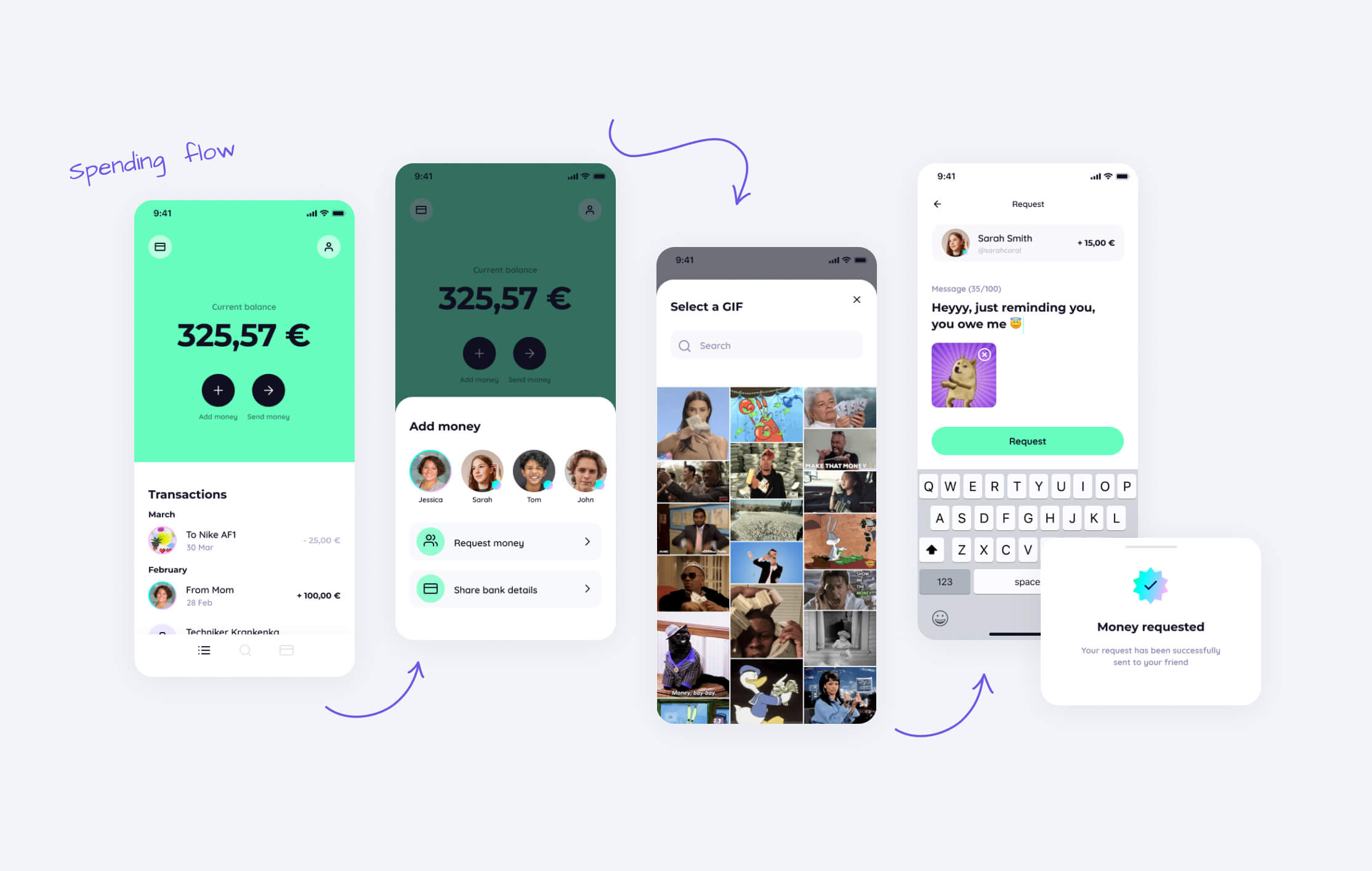 Familiar patterns for essentials like sending money - but with a fresh vibrant look and feel.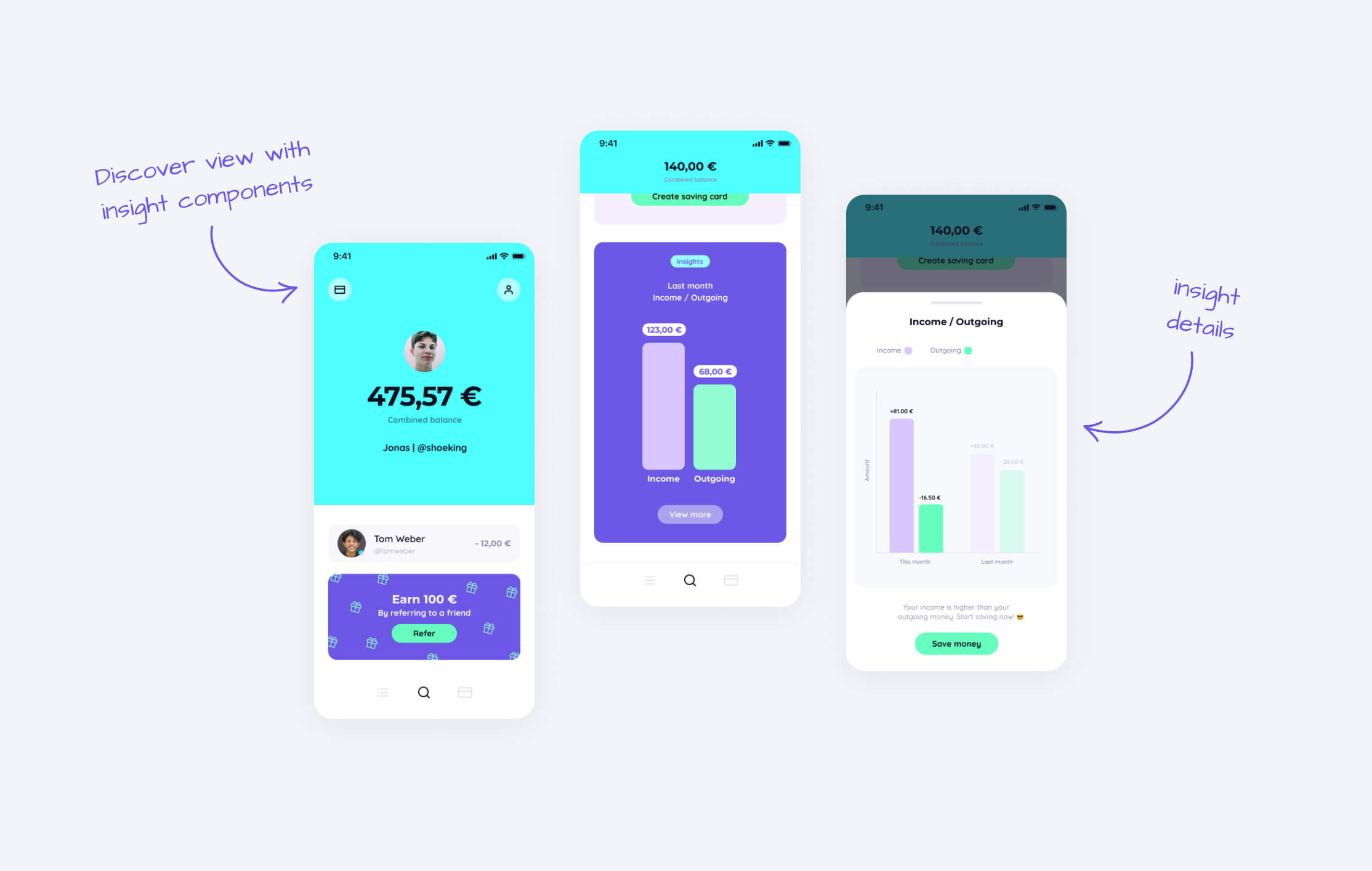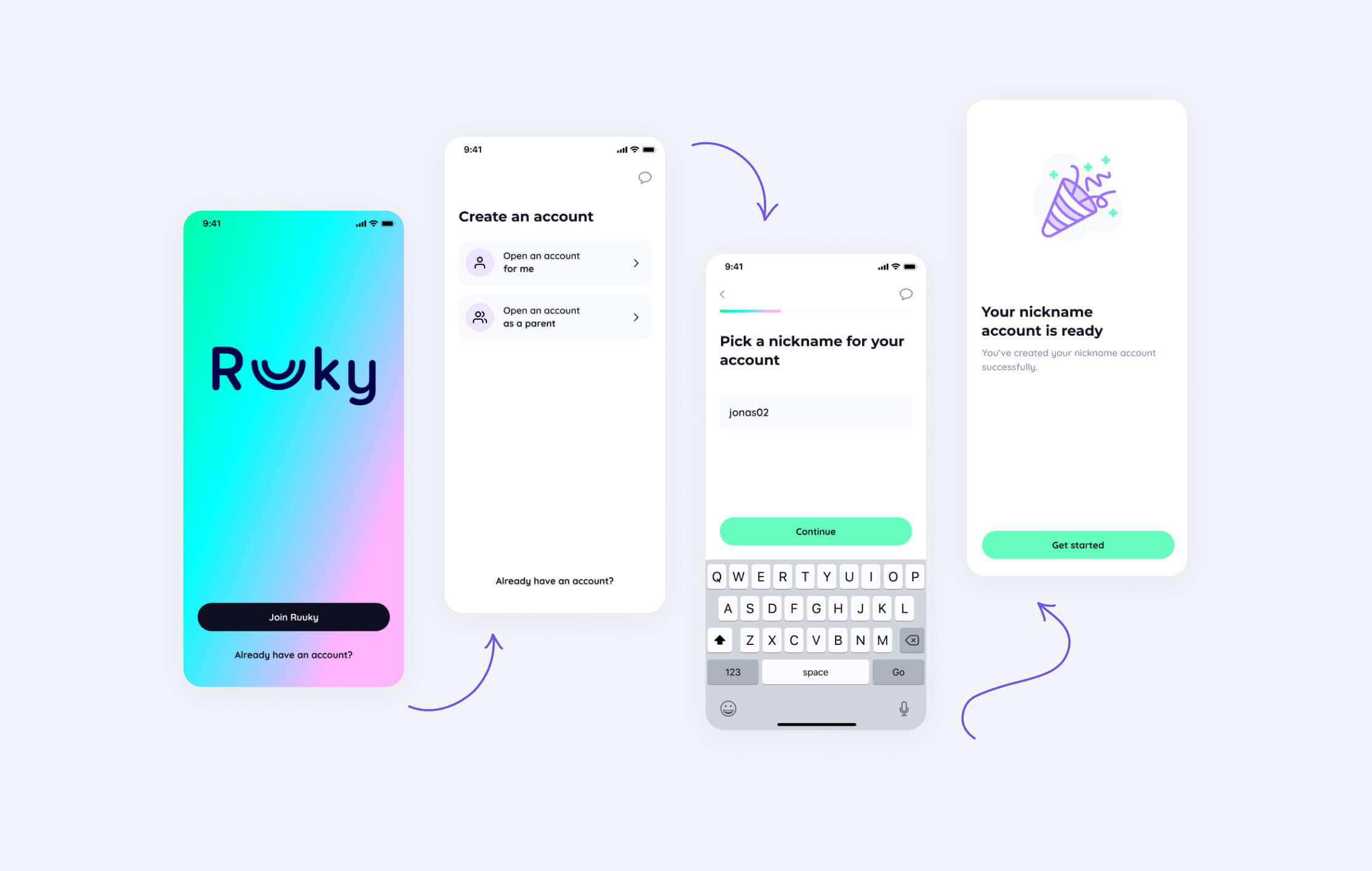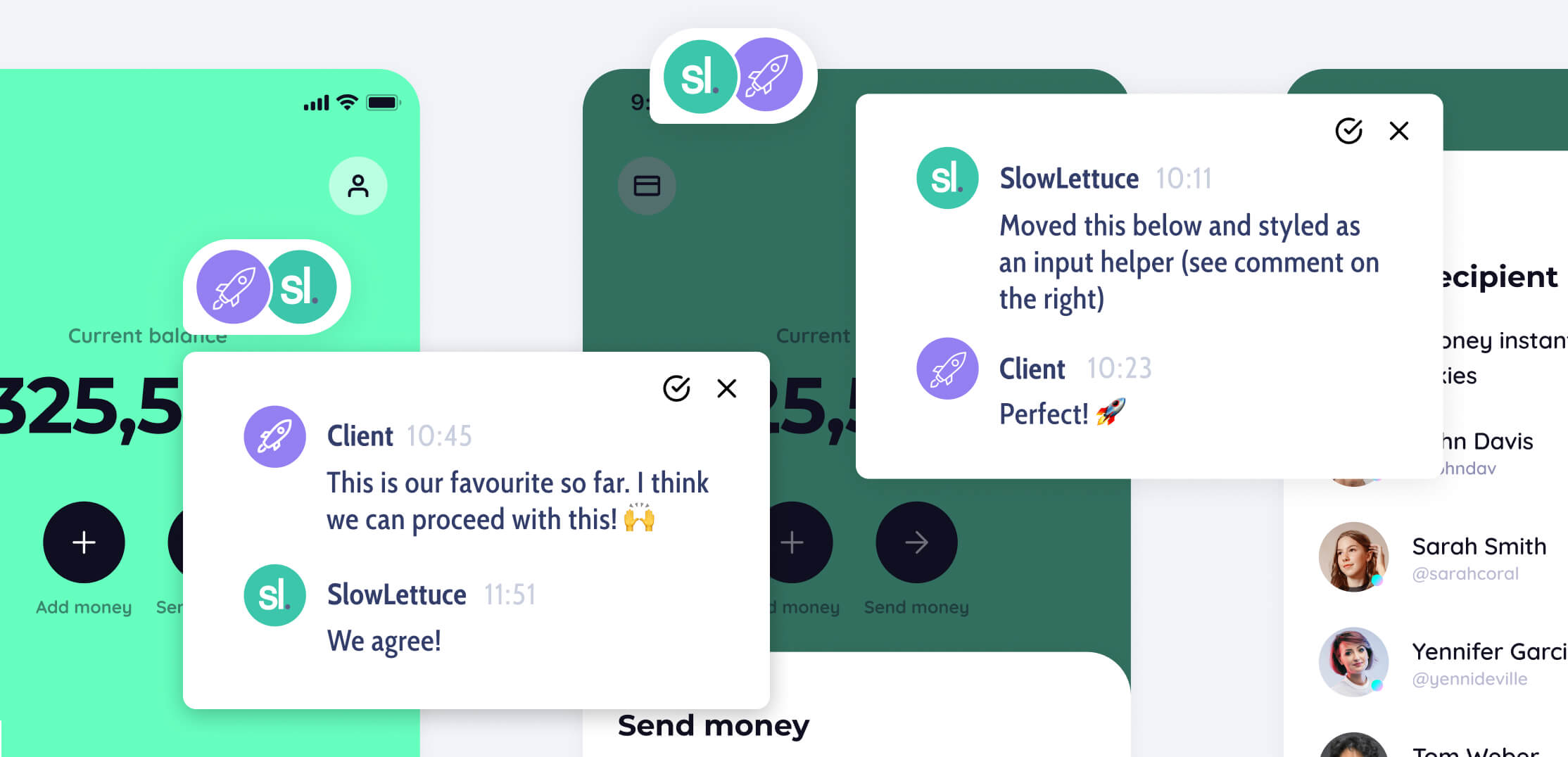 Throughout the entire project we collaborated intimately with the working group
2. Parent App

"I want a simple setup to enable my child's financial independence. I want to remain relatively hands-off, but when required, it should be easy to investigate or take action."